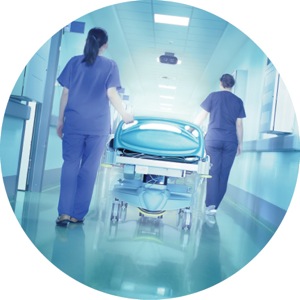 By Christina Frangou
Washington—In December, an angry former patient walked into a medical office in Reno, Nev., and fatally shot urologist Charles Garo Gholdoian and injured two others before turning the gun on himself.
In a note left at his home, the gunman made it clear he was targeting physicians, an act of revenge for what he deemed were errors made during a vasectomy years before, according to media reports.
The tragedy was a real-life event of a scenario that many health care workers fear, unfathomable as it may be in a workplace dedicated to saving lives.
"Hospitals used to be considered a sanctuary, where you saw violence but not a lot of violence. You [went] there to get help. But as times change, society changes. We are seeing more violence in the world for reasons like access to guns and economic changes. Hospitals are no different," said Marilyn Hollier, director of hospital and health center security services at the University of Michigan Hospitals and Health Centers, Ann Arbor. Ms. Hollier also serves as the president of the International Association for Healthcare Security and Safety.
Shootings happen very rarely in hospitals or on hospital property. In an often-cited comparison, a health care worker has a greater risk for being struck by lightning than being shot on the job (Ann Emerg Med 2012;60:790-798). Despite this, shootings do happen, and they occur more often in hospitals today than they did a decade ago. This shift has made health care workers, hospital administrators and security experts look at ways to prevent, and practice for, these dire situations.

"Active shooters in hospitals are the 800-pound gorilla in the room that no one wants to talk about because everyone is scared of it," said Andrew Dennis, DO, a trauma surgeon and chair of resuscitative and prehospital traumatology at Cook County Hospital, Chicago. Dr. Dennis is a Chicago SWAT cop and director of medical operations of the Cook County sheriff's office.
"But hospitals can't bury their heads to the reality. You have to accept the risk for the environment you're in. The fact is that you have a higher risk of being stuck with a needle than being involved in an active shooter situation in your hospital. But do I still think that we need training to give people realistic expectations about what could occur and what the response will be? Absolutely."
Dr. Dennis works with the Chicago police department in its emergency planning, and lectures to schools and teachers around the country about active shooter preparedness. Like teachers, he said, hospital staff needs to be trained to deal with active shooter situations.
"People will always panic. They freeze. But they will sink to the level of their training. So if you can give them a fundamental level of training and keep it alive by practicing, that's the best you can do."
Violence always has been part of the emotionally charged environment of a hospital. Stress levels are high in health care facilities as families grapple with life-and-death issues. A significant proportion of inpatients and outpatients suffer from mental illness. There's a long history of violence from the streets spilling over into hospital emergency departments.
The difference is that the degree of violence in hospitals has intensified over the past eight years.
"The country has experienced a definite uptick in violent episodes in hospitals," said Esmeralda Valague, the regional emergency preparedness manager at Christus Santa Rosa Health System in San Antonio.
It's difficult to measure that uptick, she explained, because many violent incidents in hospitals are unreported. The Joint Commission started tracking crimes in hospitals in 1995. In the two decades since, data collection about hospital violence has improved, a change that may account, at least in part, for the growth in known violent incidents. According to the figures reported, hospitals experienced significant escalations in assault, rape and homicide between 2007 and 2010, according to a 2011 report by the Joint Commission.
A survey of health care security professionals suggests that this trend has continued since 2011. According to the U.S.-based International Association of Healthcare Security and Safety, the number of simple assaults, rapes and sexual assaults in hospitals rose annually since 2010, representing a 37% increase in three years. Eight homicides were reported at health care facilities in 2012.
It's important to note that the survey's information is incomplete: It does not break down violence by country, although multiple countries were represented. Furthermore, many facilities do not participate in the survey because of concerns about potential liability and negative publicity.
AT A GLANCE
The number of simple assaults, rapes and sexual assualts in hospitals rose annually from 2010, representing a 37% increase in three years.
Nurses are often the No. 1 target of hospital violence.
Most perpetrators of hospital violence had a personal association with their victims.
Most of the time a clear motive was identified: a grudge or revenge (27%), suicide (21%) or ending the life of an ill hospitalized relative (14%).
Even if the exact number of violent incidents is unknown, there is no question that the hospital setting poses a "unique security challenge," Ms. Hollier said.
"The situation is different at every hospital. But, in general, the majority of violence in a hospital is targeted acts, not random. Nurses are often the No. 1 target. It's things like people lashing out at them because they don't think they are getting the right kind of service."
Experts say firearm violence accounts for a very small percentage of overall crimes in hospitals, but these events are happening with increasing regularity.
"When you consider the number of people who go through hospitals and clinics in the United States in a single day, the number of events involving guns is miniscule; that's important. But, exponentially, these have increased," said Daniel J. Holden, director of hospital security for a U.S. security firm and immediate past chair of the security and safety committee of the Hospital Association of Southern California.
Statistics from the Hospital Employee Health Association indicate that about 3% of hospitals experienced a shooting incident between 2000 and 2011. Another study identified 154 shootings at U.S. hospitals over the same 12-year period, ranging from a low of six shootings in 2000 to 28 in 2010 (Ann Emerg Med 2012;60:790-798). Gun violence in hospitals occurred far more frequently in the second half of the study: A mean of nine shootings was reported annually in the first six years of the study; that rose to 16.7 per year in the latter half.
A caveat: The increase was limited to firearm violence that occurred outside of hospital walls but still on hospital grounds. Shootings on hospital property increased from 2.0 per year in 2000 to 8.5 per year just over a decade later. At the same time, shootings within hospital walls remained relatively stable, at 7.0 versus 8.2 per year. Over the 12 years of study, 59% of shootings took place inside the hospital and 41% outside on hospital grounds.
No matter how one looks at the numbers, firearm violence in hospitals is rare compared with other forms of workplace violence, the study investigators stressed in their conclusions.
"The Department of Labor, Bureau of Labor Statistics indicated that less than 2% of workplace shootings involve the health care sector, a percentage that is similar to that of college and university campuses that reported 1.5% 'active shooter on campus' incidents within a five-year period and is otherwise lower than the percentage of lightning-related deaths."
The study was conducted by physicians at Johns Hopkins Hospital in Baltimore, itself the site of one of the more high-profile episodes of hospital gun violence in recent memory. In September 2010, a gunman, upset over news about his mother's medical condition, opened fire inside the hospital, wounding an orthopedic surgeon before turning the gun on his mother and then himself. In the aftermath of the shooting, physicians set out to characterize gunfire in hospitals. They wanted to find patterns that could help prevent future deaths.
The physicians discerned a handful of patterns. Hospital size and location were not predictors of violence. The majority of perpetrators, 91%, were men, representing all ages. Most had a personal association with their victims: 32% were in current or estranged intimate relationships; 25% were current or former patients; and 5% were current or former employees. In only 13% of events was the association not obvious. Most of the time, a clear motive was identified: a grudge or revenge (27%), suicide (21%) or ending the life of an ill hospitalized relative (14%). Escape attempts by patients in police custody accounted for 11%. In nearly one-fifth of cases, the perpetrator did not bring his or her own firearm. In 8% of cases, the perpetrator took the gun of a security or police officer.
"Health care providers and employees are unlikely to be victims of indiscriminate violence," the researchers stressed. "In fact, unlike those in education campuses, most hospital shootings have an intended specific target."
The study reported that only the emergency department appeared to be associated with a higher risk for shootings. Nearly one in four shootings in the emergency department related to a person in custody who was being guarded or watched by armed security personnel.
The authors concluded that impenetrable hospital security in an open society "represents a particular challenge" and "zero risk is not achievable."
That concept of an "unachievable" zero risk is changing the way health care administrators and workers think about security. Today, hospitals and medical centers are stepping up their emergency preparedness efforts, with many institutions now planning specifically for active shooter scenarios.
In March, the Hospital Association of Southern California conducted a major "active shooter" drill that involved more than 230 participants. The day started with an actor playing the role of an active shooter stalking both the hospital's emergency department and the administrative offices. That was followed by intensive discussion with participants on responding to an active shooter.
In Massachusetts, major hospitals have adopted and practice "Code Silver" protocols. In November 2013, Brigham and Women's Hospital, in Boston, created a 10-minute "Active Shooter Preparedness Training" video that gives step-by-step instructions on the proper procedures for dealing with a shooter. The video was shown to 16,000 employees, and is now part of the hospital's yearly training requirement.
The video voiceover states that the odds of an active shooter scenario are "quite remote. … But the consequences are so potentially catastrophic that it is important to be prepared so we can protect our patients, their families, our visitors and each other," according to the video.
"As health care providers, we embrace a duty of care commitment that compels us to be more than just survivors but protectors as well. That's why thinking about your actions in advance is so important."
The Brigham video hits on an issue of major concern for physicians, nurses and other health care workers: What is their responsibility to protect their patients if an active shooter targets their hospital?
There is no standard for how health care workers should respond if an active shooter barges into their place of work. Adding to the confusion, discrepancies exist among agencies and professional bodies regarding care providers' obligations in such an event.
"The Texas Board of Nursing says that if you abandon your patients, even for an active shooter threat, it may be investigated for disciplinary action, and life safety (fire) codes stress open access for egress, not ease of lockdown," Ms. Valague said. "On the other hand, you have [the U.S.] Occupational Safety and Health Administration and law enforcement agencies saying that workers need to protect their own life and safety first so they can help others later."
Every situation is different, but the goal should be to limit the number of casualties, Mr. Holden said. "Under an active shooter situation, the patient abandonment issue would probably not be, in my opinion, as stringently enforced, provided you follow your organization's protocols and training."
He also said, "[In] the end, what purpose do you fulfill if you try to run back to help your patient and you become a victim? Who is going to help the patients now?"
Dr. Dennis recommended that health care workers watch a video produced by Houston's Office of Public Safety and Homeland Security, called "Run. Hide. Fight." The video, which has received more than 2 million views on YouTube, recommends that people flee, hide, or as a last option, fight in the event of an attack.
"It is by far the easiest thing to remember," Dr. Dennis said. "It says that if you are involved in an active shooter [situation], the first thing you should do is run. If you can't run and flee the scene, then you should hide. Turn the lights out, barricade the door, become silent. As a last resort, fight. You have to remember that the goal is to minimize casualties as much as possible. You want to preserve your skilled workforce and as many people as you can."
He added that hospitals need a plan that is unique to their institution. Planning and organizing active shooter drills is expensive and time-consuming, and can be frightening to the public and the staff, he acknowledged, but "you're not going to know what to do until you drill this for real. It should be as automatic as fire drills or disaster response."